Local New Bedford, Ma. History
1950 - 1959
In Chronological Order
Follow the timeline through the years
1950's - The Capital Theater - 1418 Acushnet Avenue - New Bedford,
1950
Nov. 27 - 6:31 AM, Roger Chartier is born!
1950
The New Bedford Emergency Management Department is a full-time public safety agency with paid staff and volunteers was formed.
It had been known as Civil Defense, and was created in 1950.
1950
In August at the New Bedford Airport, the Administration Building and an Aircraft Rescue Fire Fighting building had begun construction and finished in 1951.
1950
Abe Landau and his wife Freda were both Jews who had suffered in concentration camps. Afterwards, they married and in 1950 opened a tailor shop in New Bedford on Pleasant Street in downtown New Bedford. The shop stayed open until 1990. Abe Landau established the Holocaust Memorial that can be seen facing Rockdale Avenue in Buttonwood Park. Abe died in 2000.


There are two FM radio stations in New Bedford WBSM - FM 97.3 and WFMR 98.1
1951
Bishop Charles M. Grace "Sweet Daddy Grace"
An immigrant from Cape Verde, he became a New Bedford resident and in this year built a church on Kempton Street called " The United House Of Prayer For All people".
It was one of many churches that he had built all over the country.
He had a church membership of as many as three million followers. (See 1903 and 1960)
1952
Nashawena Mills was liquidated. It's machinery was sold to the Crescent Company of Fall River.
New Bedford was only 4th in the nation for fish catch brought to port.
In this year, 85% of the nations scallop catch came into New Bedford's port.

Here is a splendid video showing life in New Bedford during 1952.
1953
The Shawmut Diner was opened in New Bedford in 1953 on Hathaway Road and Shawmut Avenue.
(943 Shawmut Avenue) It is currently owned by the inimitable and charming Phil Paleologas. (See page for 1983). As of 2013 it was put on the market for sale, though it was still operating.

Angelo's Orchid Diner started in 1953 on the corner of Rt 6 (Kempton St.) and Rockdale Avenue.
1954
Hurricane Carol hit the area on August 31 as a Category 3 hurricane and devastated homes, businesses, trees, and destroyed 15 fishing boats and damaged many more. It was the worst storm surge since the 1938 hurricane. There was damage all over the city. See the Hurricane Carol shipwreck picture and information available on this site.
1955
The Post Office on Williams St. and Acushnet Avenue was demolished.

1955

Floyd L. Ostrander, 52 years old, was so enraged after an argument with his wife that he burned down their storage barn.
Then he tried but failed to burn down the house. He ripped out the telephone wires so that no-one could call the fire department.
1955
The New England Association of Schools and Colleges give full accreditation to the New Bedford Vocational High School. It was the first Vocational high School to get that accreditation.
1956
Moby Dick, the film is released in New Bedford for it's premiere. It was produced and directed by John Houston and starred Gregory Peck as Captain Ahab and Richard Basehart as Ishmael. The grand premiere was on Wednesday evening, June 27, 1956.
The film version of Melville's famous novel of the hunt for the great white whale, opened simultaneously at three downtown movie houses: the State, the Empire, and the New Bedford Theater, on Union Street.

There was a parade down Purchase street led by Gregory Peck and his co-star Friedrich Ledebur, who played Queequeg, the tattooed harpooner. They were both riding in an open car.

There were an estimated 50,000 spectators packed in on the sidewalks along the route.
Many people dressed in whaling era garb and some men grew beards and wore top hats while ladies wore bonnets and hoop skirts.
There was a Captain Ahab Beard Contest.
A local man Herbert M. Souza won a prize of $100 as well as a $25 savings bond.
There was a monumental event at the Wamsutta Club with an estimated 400 guests.
The Whaling Museum had a costume ball. There were several street parties around the waterfront..
See a clip from the movie Moby Dick.

The pulpit in the Seaman's Bethel was constructed when they made the movie about Moby Dick.. Melville's description of the pulpit in the book "Moby Dick" was a fictitious addition to the story.
The Greater New Bedford Industrial Foundation was created to try to bring more business to New Bedford.
1957
Keith Jr. High School was built on Hathaway Blvd. between Parker Street and Rockdale Avenue.
It stood there for 50 years until it's demolition in 2007.

At that time, a new Keith Middle school was built on Hathaway Blvd., north of Parker Street and south of Durfee Street on the west side of Hathaway Blvd.
Across the street is where the new New Bedford High School was built, and both campuses covered the same contaminated area that was the former dump.

Due to the environmental hazard and PCB contamination of the soil, it has been considered to be very poor planning. The future looks bleak as far as cleaning up all of the contamination that has been discovered in the testing done there over the years.

Although the city bought and demolished several homes neighboring the school property that were also built on the former dump and removed and capped tons of soil, the area still tests positive for serious contaminants.
Elizabeth Carter Brooks Elementary Schools on Nemasket Street Near Parker and Rockdale Avenue.
It was built in 1957.
It was the first school in New Bedford to be named for an African-American.
Elizabeth Carter married a Bishop Samson Brooks in 1930, and she died in 1934.
She had been a school teacher for many years as well as having many other notable accomplishments.

1957
September 15
A Northeast Airlines twin engine DC3 that had taken off an hour late from Martha's Vinyard because of severe weather crashed in the wooded swamp 1/2 mile from the New Bedford airport.
Eight passengers, as well as the pilot and co-pilot, were killed. The stewardess and fourteen others were injured. 5 ended up on the critical list.

It took 3 hours to find and get to the site of the crash in the swamp at night due to the need to create makeshift bridges of limbs, branches and ladders from the fire department.. There were many volunteers and professionals including doctors, firemen and ambulance personnel who responded despite the difficult access to the site. Normand Chartier was a volunteer ambulance driver who was at the scene.

1958
Wamsutta Mills closed the New Bedford mill and moved to South Carolina where they were able to pay cheaper wages and gain more profit.
1958
At the New Bedford airport, the Federal Aviation Administration (FAA) took over the air traffic control.
In that year, some of the old military structures were demolished.
There was also work done to improve the drainage and lighting.

1958 New Bedford Hotel was closed and eventually made into senior housing.

The Orpheum Theater originally opened in 1912 closed it's doors. - G. Albert Roy was interviewed as it's the last manager. As of 2011 Orpheum Inc. is working to preserve the theater.
1958
Emily the elephant who lives at the Buttonwood Park Zoo was born in the wild on this year.

1958 and 1959 East and West Beach are refurbished with local funding.
1959
The train station owned by the New Haven Railroad is sold, and that ends train passenger service from this city.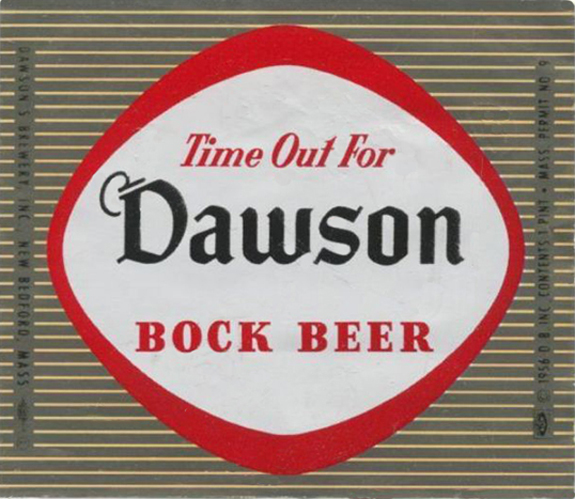 This is a 1956 Dawsons Beer label
Dawson & Son Brewery was founded in 1899
in New Bedford Massachusetts by Benjamin Dawson. Prohibition closed it down in
1918.
It reopened again in
1933
in New Bedford as Dawson's Brewery, Inc. after Benjamin Rockman bought the company.
His nephew Sam Brown ran the business until is was sold in
1967
to Rheingold and the brews were sold to Piels.
Rheingold made the low calorie Gablinger at the Dawson brewery. The whole thing closed in
1977
.
The buildings have been demolished.
Read More about the
Dawson history from 1880 - 1977