Local New Bedford, Ma. History

2000 - 2009 In Chronological Order
SCROLL DOWN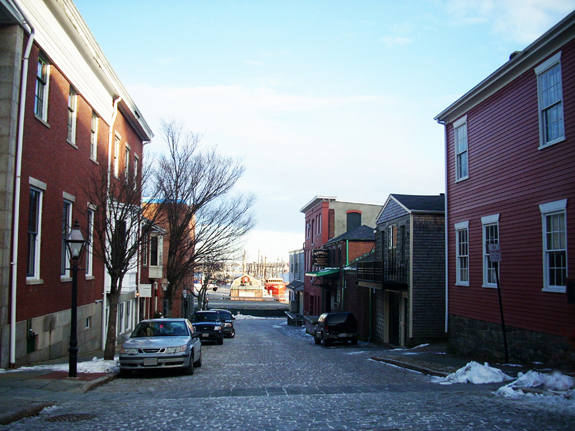 Hamilton Street in New Bedford looking down to the docks and the fishing boats
2000
Added to the National Register of Historic Places:
The Nathan and Mary (Polly) Johnson properties are a National Historic Landmark at 17-19 and 21 Seventh Street in New Bedford, Massachusetts.
Originally two structures, one dating to the 1820s and an 1857 house joined with the older one shortly after construction.
They have since been restored and now house the New Bedford Historical Society.
The Johnsons were free African-Americans and Quakers who ran a meetinghouse and are known to have sheltered escaped slaves using the Underground Railroad starting in 1822.
Both were also successful in local business; Nathan as a pharmacist and Polly as a confectioner.
One escaped slave who passed through the Johnson's' house was Frederick Douglass, who settled in New Bedford in 1838.
Also,
Buttonwood Park was added to the Register in 2000.
It is bounded by Kempton Street, Rockdale Avenue, Hawthorne Street and Brownell Avenue.
2000
This year crime was the lowest in 20 years. The Crime Reporting Unit of the Massachusetts State Police reported 3,166 total crimes. 2,377 were property crimes and 789 were violent crimes.

Population estimate 93,768 - Persons' per square mile 4,660.4
The Latino population rose from 7% or 6,653 to 10% or 9,576 since 1990 and continued to raise.

There were 4 fatal car crashes in the city for this year.
Unemployment rate was 5.3%

2001
New Bedford was the top-valued port in the nation with landings that generated revenues of $150.5 million. Sea scallops valued at $81,900,000.00 were the leading species.

There were 9 fatal car crashes in the city for this year.

Mandatory 10-digit telephone dialing began.
2001
On December 8, 2001, the biggest cocaine drug arrest in Massachusetts history happened in New Bedford. The bust hauled in 260 kilograms.(572 lbs.) The leader was Rafael Yeje Cabrera.

New Bedford received a $352,000 grant to monitor and restore the water quality in the Acushnet River.
PBS, American Experience Series, The History of Chicago filmed segments here.
2002
The making of the film "Passionada" was the first film made in New Bedford in 45 years.
The film is a romantic comedy about a Portuguese widow whose husband had been a fisherman who died at sea.. It was criticized for having many technical errors concerning Portuguese culture with wrong names, music and food, as well as non Portuguese dancing.

Environmental Protection Agency's Superfund program came up with $6.5 million of additional funding for the cleanup of the New Bedford Harbor Superfund site.

Added to the National Historic register
New Bedford Gas and Edison Light Complex is a historic district at 180 MacArthur Drive in New Bedford, Massachusetts. The complex was built in 1856.

Republic of Spain Public Television, History of Navigation Series filmed segments here.
There were 4 fatal car crashes in the city for this year.

New Bedford again grabbed the top spot in the country for fish landing value with $169 million.

2003
National Register of Historic Places:
Whitman Mills is a historic mill complex in New Bedford. The mill was built in 1896

The New Bedford Armory built in 1903 closed in 2003.
An episode of the TV series Ghost Hunters aired on Wednesday November 17, 2004
It featured the Armory.

The 30 minute Independent Film, Bruxa was created here with a totally home grown cast and crew.

In December, the scallop boat Atlanta was lost at sea. Three men died, and four were rescued.

There were10 fatal car crashes in the city for this year.

An oil barge #120 had a disastrous oil spill on April 27. It was the worst in 25 years. Environmentalists were upset, and the company's top executive gave an apology. There was discussion afterwards about whether or not there should be a state provided tug escort for the double hulled tankers passing through Buzzards Bay.
2004
In December a scallop boat, the Northern Edge was lost. Five men died, and one was rescued.

There were10 fatal car crashes in the city for this year.
The historically significant Lupo's Restaurant building on the corner of Acushnet Avenue and William Street is demolished by the Mount Vernon Group and left as an empty lot. See 1897 Lupo's restaurant
2004
As a result of some hostile politics involving the Steamship Authority, the New Bedford passenger ferry Schamonchi was taken out of service.

The Discovery Channel, Weird Travels Series, Haunted New England filmed segments here.

The fishing was good.
New Bedford claimed the top spot for value of landings, bringing in $206.5 million.
2005
Placed on the National Register of Historic Places:
The William Rotch, Jr. House built in in 1834 at 396 County Street in New Bedford, Massachusetts, is currently called the "Rotch-Jones-Duff House and Garden Museum." It is a National Historic Landmark.

Fishermen from New Bedford, again grabbed the top spot for value of landings, with a new record at $282.5 million. This was $75 million more than in 2004
PBS, "Edens Lost & Found" Series filmed some segments here.
Japan the Discover America Series did some filming in the city.
There were 20 reported cases of arson in 2005.
There were 9 fatal car crashes in the city for this year.
Population is 93,102. Unemployment rate was 7.3%.

2006
Placed on the National Register of Historic Places:
The William J. Rotch Gothic Cottage is a National Historic Landmark on 19 Irving Street in New Bedford, Massachusetts.
In 1845, Alexander Jackson Davis built the Gothic Revival styled Rotch Cottage.
Later in 1850 the house was included in "The Architecture of Country Houses".
The house became somewhat famous, as a result.
Subaru International, TV Commercial, Trebeca did some filming in New Bedford
Sports Network, East vs. West Shark Fishing National Tournament filmed segments here

2006
Was a year of notable violence.
Thursday, February 1,
Jacob D. Robida a New Bedford teenager, attacked and seriously wounded three patrons of Puzzles Lounge, a New Bedford gay bar, with a hatchet and a gun.
The bartender said that he came in dressed all in black, ordered a drink and asked if Puzzles was a gay bar. He finished his drink, ordered another, then started attacking people. Three people were taken to the hospital.
He then took a car and fled to Arkansas. There, he murdered a female companion and killed a police officer.
Later on he died from wounds that may have been self-inflicted or those that he may have received in the massive shoot out with police. See the photos on the bottom of this page.

On February 11, New Bedford was featured on New Bedford appeared on America's Most Wanted TV show. The program discussed the "Stop Snitching" problem in the city and focused on three unsolved murders. They were the murders of Marcus Cruz in 2001, Cecil Lopes III in 2004 and Dana Haywood in 2005.

On December 12, Scott Medeiros was angry over an issue with a woman and came into the Foxy Lady on Popes Island New Bedford armed with an automatic weapon., He killed a doorman and a manager then shot a patron and two police officers before killing himself. See Police Chief Ron Teachman speak about it.

2006 Population estimate 92,538
There were 9 fatal car crashes in the city for this year.

Parking fines brought in a revenue of $278,380.00 this year.

The Standard Times daily (Monday through Saturday) circulation averaged 31,629 by mid year.
The Sunday Standard-Times averaged 33,524 mid-year.

2007
March 6, About 500 ICE (immigration) and people from other police agencies agencies, raided the Bianco leather factory and arrested approximately 350 illegal aliens who were employed there. The factory was making backpacks under a contract with the US military.

As a result of the raid children were separated from their parents, and it was a terribly tragic situation.
About 90 workers were transported to Texas to prepare to be deported.

Some of them had never been allowed to see a lawyer or have contact with the Department of Social Services concerning their infants and toddlers who were left without care.

Afterwards, approximately 20 Department of Social Services workers were sent to Texas.
Watch this video of a New Bedford Detainee testimony.
See the video of the sick baby who was separated from its mother
See this video of the press conference following the raid
2007
On January 26 in Nantucket sound the fishing trawler Lady of Grace was lost, and all four men aboard died.
PBS, "The Catalpa Expedition" filmed segments of the program here.
PBS, American Experience, Walt Whitman filmed segments in this city.
There were 4 fatal car crashes in the city for this year.
421 motor vehicles were reported stolen in this year.
2008
National Register of Historic Places:
Wamsutta Mills on Acushnet Ave., Logan, Wamsutta, and N. Front St.
Also placed on the Register of Historic Places, Union Baptist Church a historic church at 109 Court Street in New Bedford, Massachusetts. It was built in 1899.

An Independent Film, titled Homeland filmed segments here.

There were 8 fatal car crashes in the city for this year.

The city's port landed 146.4 million pounds of fish this year. This was not the highest in weight but as far as the value of fish sold it was top in the nation for the 9th straight year.
2008
At the Loyal Order of the Moose club, Ray Medina won a million dollars on a lottery ticket on August 26. The Moose Lodge got a $10,000.00 check from the lottery commission for selling the ticket.
2009
Added to the National Historic Register. Head of the River Historic District.
The district spans from 2 to 28 Main St., Acushnet; From 2 to 28 Mill Rd. and from 2 to 13 Tarkiln Hill Rd.

There were 719 assaults, 334 robberies, 38 cases of arson reported and 9 murders this year.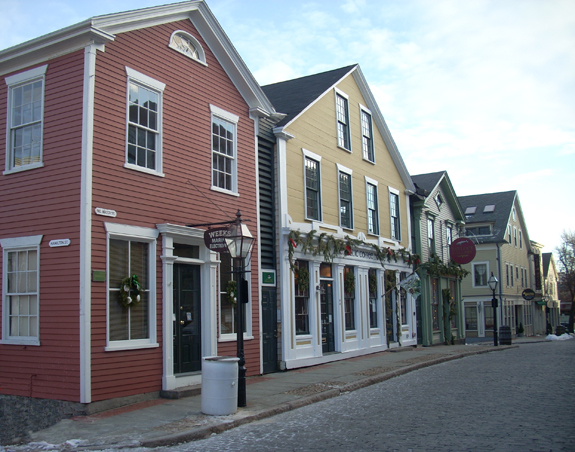 New Bedford, Ma.
North Water Street on the corner of Hamilton Street looking southeast behind the Whaling Museum
Jacob D. Robida
killer at Puzzles Lounge

Puzzles Lounge
North Front Street New Bedford