Local New Bedford, Ma. History
1960 to 1969
In Chronological Order
Follow the timeline through the years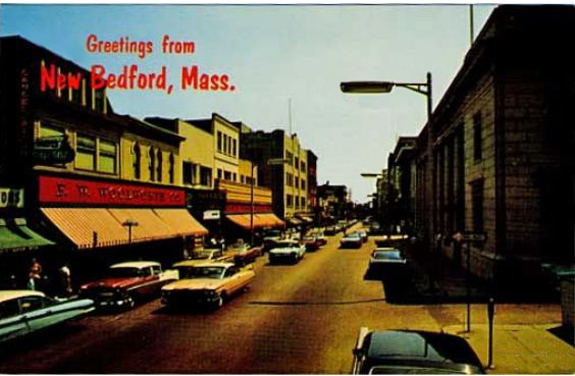 Woolworth's Downtown- New Bedford, Ma.
1960
Bishop Grace died on January 12, 1960.
In 1919, Bishop Grace built the first United House of Prayer For All People in West Wareham, with his own hands. He later incorporated the United House of Prayer for All People in Washington, D.C. in 1927.
There was a very popular United House of Prayer on Kempton Street in New Bedford.

The United House of Prayer for All People has 131 places of worship in 26 states. The church was said to have an approximate membership of 1.5 million people, though some estimates are lower.
The national headquarters for the church is located in Washington, D.C. The church is known for its shout bands.
"Sweet Daddy Grace" had a mansion on County Street in New Bedford. (See 1903 and 1951)
Truck Drivers picketed during the 76 day strike by Local #59.

The Ferryboat service from New Bedford to Martha's Vinyard that was originally created by the New Bedford Redevelopement Authority was discontinued.
1960's
Clothing manufacturers accounted for almost one-third of the manufacturing jobs in New Bedford
1961
At the Seaman's Bethel, there was an addition of a pulpit to copy the one described by Melville in the book Moby Dick. Although it was not really in the Bethel when Melville wrote the book, he colorfully added it as a piece of fiction.
Fay's Knotty Pine was opened in the north end of the city. It became a hugely popular place for pizza etc.
It closed that location after many years and as of 2011 Fay's is on Dartmouth Street in Dartmouth and serves sumptuous food.
New Bedford Industrial Park opened.
1962
Duke Ellington and his orchestra played a one night engagement at the New Bedford High School Auditorium
1962
The statue that today is in Tonnensen Park on William Street in New Bedford, is in the historic district that was donated by Ana Hyatt Huntington. The statue was offered as a memorial to seamen who died and were buried at sea.
The city publicly dedicated it as a memorial to the whalemen and fishermen.
The statue depicts a mythical sea god holding a codfish in one hand and a sturgeon in the other.
The statue also has depictions of a lobster, an octopus, a sea turtle, a scallop, a lobster, and a clam.
WHALE or the Waterfront Historic Area LeaguE was founded.
November 17, Mayor Harrington, William H. Potter, chairman of the New Bedford-Fairhaven Hurricane  Protection Project Committee, Representative Hastings Keith (R-Mass), State Senator Antone D. Silva (D-New Bedford), Colonel Peter C. Hyzer, division engineer, New England Division Army Corps of Engineers, and the late Charles J. Lewin, editor and general manager of The Standard-Times each turned a shovel full of earth to commence the building of the hurricane barrier. See 1966 for finalization..
See the page for a picture of the hurricane barrier.
1963
Palmers Island light was deactivated in 1963 and wasn't re-activated until 1999
It had been built in 1849, and made to run automatically in 1941.
It is 24 feet tall and made of stone, with a fifth order fresnel lense, made in 1857.
1963
WTEV-TV began broadcasting television locally on New Years Day of 1963 on channel 6 from its studio at 430 County Street on the corner of Union Street in New Bedford.
1963
"Chubby and the Turnpikes" release the record "(I Know) The Inside Story." They went on to become the band "Tavares." Here is a site about Tavares
1963
The New Bedford YMCA bought a 25-acre day camp called Camp Massasoit in Mattapoisett.

The Sharp-shooters club (Franc Tireurs) sold the Orpheum Building to an individual.

1964
In January Irv Vermilya committed suicide. In 1921, he was the first person to bring radio to New Bedford and started the first station.

He got a radio station license1ZE, and began doing radio broadcasts to entertain his neighbors in and around New Bedford and over into nearby Cape Cod.

In 1922 he made a deal with Slocum and Kilburn Company, and Irv was hired to build and run a station in the radio department of their store.

By the middle of 1922, it went on air as WDAU. That station has evolved to become WNBH.
The name change came because the studios were then located in the New Bedford Hotel.

He went on to stay in the broadcast business for many years, but after his wife died and his physical and mental health were not good he called it quits and committed suicide.

1964
The city's parks organized sports games and had competitions.
In this year, Leo Dumas and a partner won the city wide horse shoe throwing "doubles" championship competition.
The film "Rising Tide" was made about New Bedford hosted by Chet Brinkley
1964
American Cordage company was sold.
It had been founded in 1842 by a few New Bedford whaling agents.
The company was incorporated 1846.
At first the company specialized in whale line, used to connect harpoons to the ship. They became the leading supplier of that kind of rope. They also made other kinds of line. Sales increased in the later 1800's because pleasure boats had become more popular.
The company earned bigger profits so that by 1888, there were employed 250 people at the New Bedford factory. The company was sold in 1964 to Phillips Petroleum.

1964 - 1965
The Hurricane Barrier we built to protect the city and commercial areas from hurricanes and storm surges.
1965
New Bedford military men who died in the Viet Nam War :
Sgt. William "Willie" J. Wright, 40, of New Bedford, killed Dec. 5, 1965
Pvt. Edward J. Almeida, 18, of New Bedford, killed July 8, 1965.
Whale and the City Planning Dept cosponsor an 18 month study for an historic and commercial revitalization plan in the Waterfront Historic District.
US immigration act was amended that removed the barriers for southern and easter Europe resulting in an influx of nearly 500 immigrants in it's first three months of people mostly from Portugal and the Cape Verde Islands.
Between 1965 and 1981 WHALE spent nearly 3 million to rehabilitate some historic buildings.
New Bedford population was 100,176

Pairpoint made superb glassware.
The Pairpoint Manufacturing Company factory was established In 1880 by the directors of the Mount Washington factory.
The building burned to the ground on October 1, 1965.
1966
New Bedford military men who died in the Viet Nam War:
Lance Cpl. James K. O'Leary, of New Bedford, killed July 24, 1966.
Cpl. Luiz Pina Jr., 19, of New Bedford, killed Dec. 4, 1966.
Marine Pfc. Paul E. Hassey, of New Bedford, killed March 28, 1966.
Marine Pfc. Kenneth E. Beauregard, 18, of New Bedford, killed March 5, 1966.
1966
May 21, 1966 saw the completion of the Hurricane Barrier that protects the inner harbor of New Bedford.
It is 9,100 feet long and 20' above mean sea level.

It is still the largest stone structure on the East Coast of the United States. The 150 wide foot gateway is usually open to allow boats to pass and water to flow between the inner and outer harbors.

The gateway closes and the barrier is complete when storm surges are predicted.
1966
In 1966, David Dolinsky opened a seafood shack called "Davy's Locker" next door to Billy Woods Wharf on the east side of Clark's Point.
It is on the coast of Buzzards Bay in New Bedford outer harbor just south of the Hurricane barrier.
It had eight tables then.
As of 2012 it was run by a 3rd generation of that family it has 320 seats as well as an outdoor Tiki bar.
1966
Added to the National Register of Historic Places:
New Bedford Historic District is a National Historic Landmark District in New Bedford.
Most of the buildings there were built between 1790 and 1855.
In this year the Benjamin Rodman house was restored.

1966
The Standard-Times Publishing Co. had other holdings such as WNBH radio in the city and WOCB, in West Yarmouth. The were invested in television with WTEV-6. They also owned another publication called the Cape Cod Standard-Times in Hyannis.
All of that as well as well as Massachusetts Air Industries, were sold to Ottaway Newspapers, Inc..
James H. Ottaway Jr. became its publisher that year.
1967
Paul Clayton born in 1931 in New Bedford died in 1967. He was a notable folk musician and folk music collector.
He befriended many famous people in his career and travels. Bob Dylan was one.
He was probably the first person from New Bedford to record sea shanties. Roger Chartier is another.
1967
New Bedford military men who died in the Viet Nam War:
Cpl. Tiago Reis, 20, of New Bedford, killed Sept. 21, 1967.
Pvt. Caesar A. Pinto, 19, of New Bedford, killed Aug. 9, 1967.
Sgt. Paul J. Landry 25, of New Bedford, killed April 29, 1967.
Pfc. James C. Offley, 19, of New Bedford, killed May 18, 1967.
Pvt. Kevin B. Hardiman, 18, of New Bedford, killed Dec. 29, 1967.
Cpl. Robert R. Gonneville, 19, of New Bedford, killed Nov. 9, 1967.
Marine Pfc. John J. Conway, 18, of New Bedford, killed March 17, 1967.
Cpl. Norman L. Beaulieu, 20, of New Bedford, killed June 2, 1967

1967
Richard T. Saunders Funeral Home at 495 Park St. was built.
M & C Cafe on 436 Belleville Avenue was started in 1967 by Manny and Cathy Mello
Homlyke Bakery was established in 1967.
ABC Disposal Service, Inc. was founded in1967
Tryworks Coffeehouse began in 1967

1968
New Bedford military men who died in the Viet Nam War.
James C. Maiato Jr.
Sgt. Joseph Ronald Paulette, 19, of New Bedford, killed April 9, 1968.
Pfc. Charles Arthur Gaudreau, 19, of New Bedford, killed June 12, 1968.
Cpl. William C. Medeiros 22 killed April 16, 1968.
Staff Sgt. Kenneth A. Baker 32, of New Bedford, killed Nov. 22, 1968.
John Veara of New Bedford.

1968
A Swedish scientist first detected problems with PCB's as a health risk. The issue of pollution from the dumping of PCB's into the river and the landfill areas was to become one of the biggest problems that the city ever faced.
1969
New Bedford military men who died in the Viet Nam War.
Pfc. Michael L. St. Pierre, 19, of New Bedford, killed July 25, 1969.
Sgt. Paul I. Rodrigues, 21, of New Bedford, killed May 11, 1969.
Staff Sgt. Donald R. Desmarais, 20, of New Bedford, killed on Oct. 22, 1969.
Pfc. Anibal S. "Nebe" Cabral, 18, of New Bedford, killed Jan. 25, 1969.
Pfc. Richard J. Daley, 18, of New Bedford, killed May 6, 1969.
1969
Cotton production ceased at Berkshire- Hathaway in New Bedford.

SMTI was renamed Southeastern Massachusetts University (SMU)

New Bedford Hotel closed its doors in 1969.

Days Inn on Hathaway Road was built in 1969 next to Sullivan's Ledge a polluted superfund site.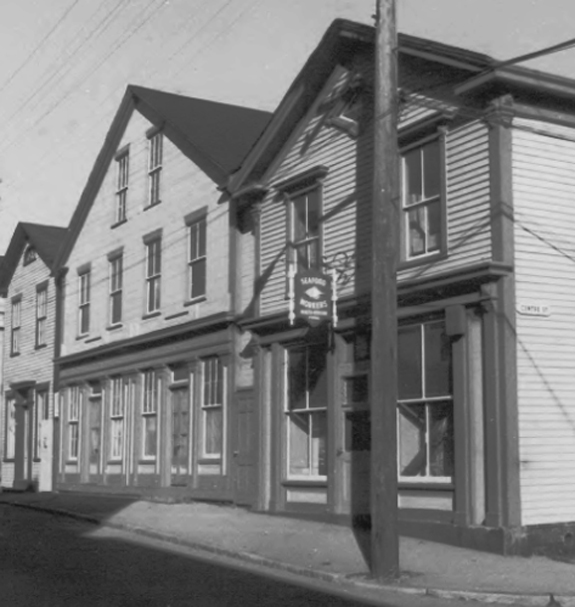 Corner of North Water Street and Centre Street - New Bedford, Ma.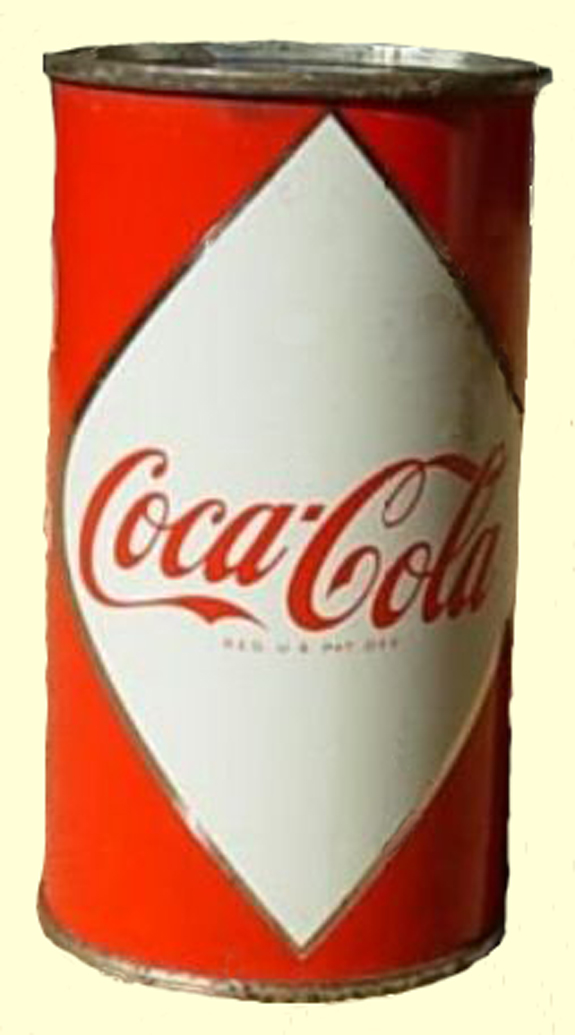 Coca Cola had a bottling and canning plant in
New Bedford throughout the 60's and before that time on Kempton Street.