New Bedford, Ma. History
From 1930 to 1939
In Chronological Order - Follow the timeline through the years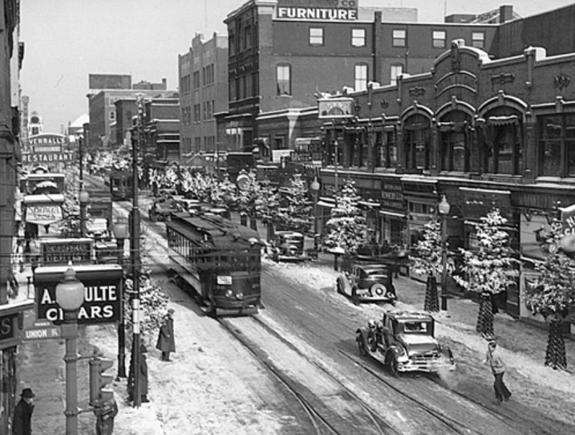 1934 - Purchase Street - New Bedford
1930s
By this time on Parker Street the agricultural land previously owned by the Howard Brothers covering area
west of Oak Grove Cemetery up to Rockdale Avenue and north of Parker street had become the city's
largest dump.
The full history of the environmental disaster there is yet to be written.
1931
Basil Brewer began managing the Evening Standard and the Morning Mercury in 1931.

Both papers were in competition with the city's third newspaper, "The New Bedford Times".

In 1932, The papers merged. This was the beginning of the Standard-Times.
In 1933 Basil Brewer became the principal owner of the paper.

Finally, the Morning Mercury stopped it's publication in 1942.
1933
Busses replace the trolley service to Fall River.
1934
A New England wide textile workers strike that was the largest strike in US history took 400,000 worker
off the job for 22 days.

The strike was not just New England but in southern and Mid-Atlantic states, as well.
1934
The Wharfinger building now used as the New Bedford Waterfront Visitor Center, was built by the WPA of
bricks from a demolished mill building.

For many years, it was used as the morning fish and scallop auction house.
1934
The Standard Times is established as the city's main newspaper with the merger of the "Daily Evening

Standard" and the "New Bedford Times".
1935
Planning begins for a New Bedford Airport
1938
A Plan B form of municipal government was adopted by the city of New Bedford.

This changed the power of the mayoral office, i.e., the mayor now had more power to make appointments.

It also established a single legislative body, with eleven councilors.
1938 Sept. 21,
A massive hurricane, slammed into the Southern New England coast with wind gusts up to 183 mph and a destructive 12-16 foot storm surge.
The damage in today 's money would be over 4 billion.

Unfortunately in the total area affected, 600 people died in the hurricane.
1939
In New Bedford, the Textile Workers Union of America (TWUA) was created from the Textile Workers
Organizing Committee (TWOC-CIO) and the United Textile Workers of America (UTWA).
1939
Aerovox moved into a building along the upper reaches of the Acushnet river and manufactured capacitors with PCB's until 1978..

The result was pollution of the factory property, river, land and sewer lines.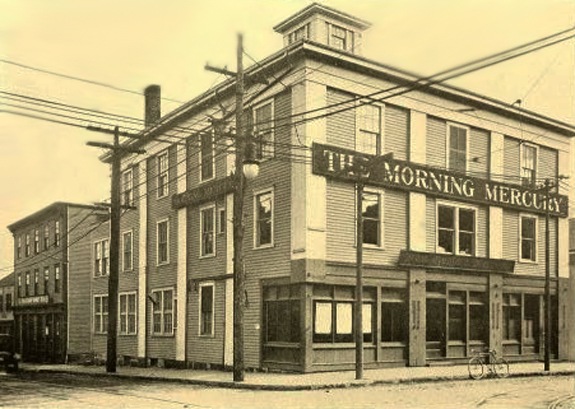 The Morning Mercury first published in 1807 - ceased publication 1942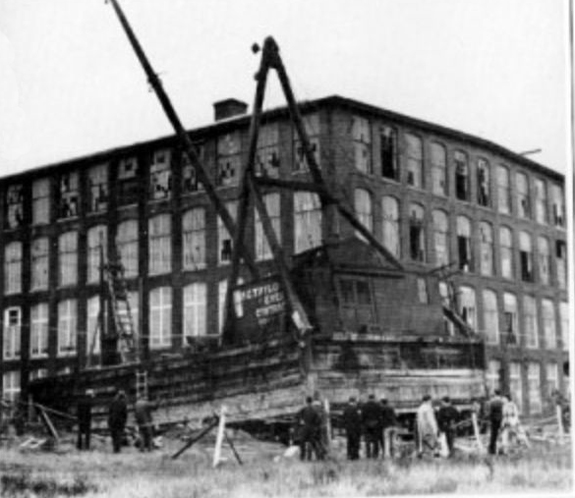 Huge barge washed ashore in the 1938 Hurricane - Near Coggeshall Street.
It landed 6 inches from a fire hydrant.