Local New Bedford, Ma. History

1779 - 1799 In Chronological Order
1779 to 1799 were difficult years.
After the revolutionary war was over there was the huge task of getting back on track as a powerful whaling and commercial port.
The war had destroyed so much of New Bedford. SCROLL DOWN THE PAGE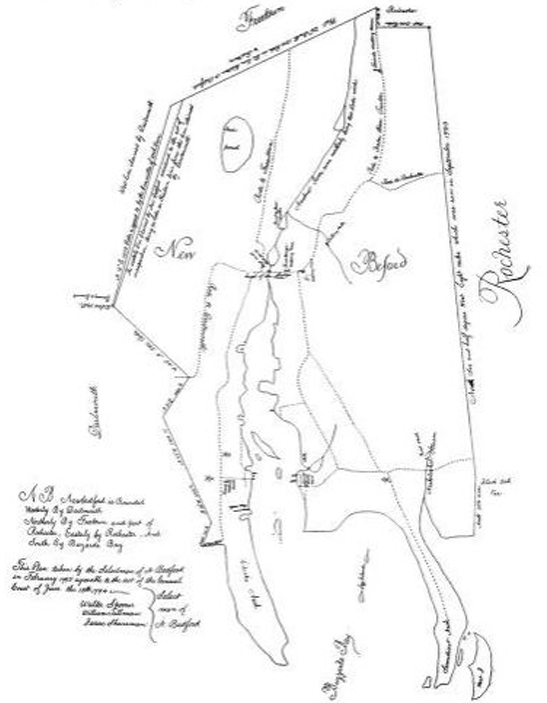 1779


Patience Kempton died aged 105 years and 6 months
1779
The selectmen prepared a list of items to be covered by the 1777 General Court's "Monopoly Law" that protected people from being overcharged for items.

The person monopolizing could have their goods taken away and be fined.

Items included prices for imported wheat, Indian corn, good fresh pork, men's shoes, rum from West India and locally made, sugar, hay, horse keeping, broadcloth, mowing, reaping and other labor, coffee and the diet and lodging at Public Houses.


1780 May 19.
On that day, some strange phenomena occurred in New England causing the daytime sky to be as dark as night. Read More about the Dark Day
1780
An African-American Quaker who was the son of a freed African-American slave and his Wampanoag wife petitioned the colonial government of Massachusetts for the right of African-Americans to vote as taxpayers which was officially recognized three years later.
Massachusetts banned slavery.
By this time, the few Quakers who had slaves had already freed them as the Quaker leaders urged them to do.
1780 September 5
The General Court appropriated 1,200 Pounds (money) as a relief fund for the relief of the sufferers of the events of the war. The money was distributed.

Paid by Col. Thomas Kempton
Sylvanus Allen, Sylvanus Allen Jr., Walla Adams, James Akin, Betsy Cathel, widow; Uriah Dunham, John Gerrish, Samuel Hawes, Sarah Kempton, widow; Lemuel Mendal, Anna Mot, Stephen Merrihew, Mary Negus, Shoebal Peas, Joseph Rotch, Abigail Samson, Reliami Summerton, George Whippe, Timothy Ingraham, John Wait, Sarah Shearman, Seth Reed, Oliver Price, Benjamin Taber, Experience Tripp, George Wrightington, Griffin Barney, Eleazer Hathaway, Micah Hathaway, Gamgliel Briant, Thomas Boland, Freeman Taber, Ephraim Annibal, Elihu Akin, James Chandler, Charles Church, Sole Cushman, Venture Child, Joshua Doune, Martha Hamblin.

1783
William Rotch Jr. owned a ship captained by a man named "Moore" that sailed for England with a cargo of 487 butts of whale oil.
The ship arrived in the Downs, England on the day of the signing of the peace treaty, February 3, and was the first to display the American Flag.

Paul Cuffe was involved in efforts that led to the law change in 1783 allowing free blacks the right to vote in Massachusetts.
1785
The First Friends Meeting House was built expressly for the purpose.
They had previously used a small school house on the east side of Third street between Walnut and School Street.

The new edifice of brick was built on Spring Street on a half acre of land donated by Joseph Russell.
1785
At Head-of-the-River and Belleville Roads in front of Humphrey Hathaway's residence there stood a whipping post for the punishment of public offenders.
The last whipping that took place there was in front of a lot of bystanders and schoolchildren who had just been let out of school. It was administered to John Black who was punished for stealing.

Tradition said that there was another whipping post in Fairhaven on the northwest corner of Center and Middle Streets.

The ship Rebecca was built in New Bedford by George Claghorn and launched in March. A handsome female figurehead was placed on her just before launching and the more conservative Friends didn't like it and complained, so it was removed.
A mock funeral was held for it by one or more sons of John Russell and other gay young men then it was buried in the sand on the beach.
The Rebecca made many successful voyages with Capt. Grinnell but was lost during the winter of 1803-04. It had foundered off the coast of England after leaving Liverpool.
1787
The Great Subdivision of Towns
Bedford Village became the town of New Bedford.
The name was suggested by the Russell family who were prominent citizens of the community.
This is when Dartmouth was subdivided into Westport, Dartmouth and New Bedford. At this time, Fairhaven became part of New Bedford.
Fairhaven split off in 1812.

The first town meeting was held in the Congregational meeting house, and they elected selectmen and divided the town into 4 districts.

They decreed that there be employed a town schoolmaster.

Wages were set at 4 shillings per day for selectmen, assessors, etc., and they decreed that the herring fishery be inspected to open dams for the alewives to be able to travel up the river.

John Pickens, the town treasurer, shall as soon as the money is available purchase a "Rheim of paper for the purpose of making Books convenient for the Records and Accompts of s'd town.".
By this time, Westport had been set off from New Bedford.

It comes from the fact that the Dukes of Bedford who was a leading English aristocratic house, also had the surname Russell.
Although it had been Bedford village, another town in the greater Boston area to the north, Bedford, Massachusetts had already been incorporated by 1787, so they had to add the "New" to New Bedford. Fairhaven was not yet a separated town until 1812.
1787


The William Rotch Jr. house which was later to be known as the Mariner Home, was built at William and North Water Street.
1788
An additional section of North Water Street, the easterly portion of Middle Street and North Second street from Middle Street North were opened as highways.
Small pox broke out in the village.
1789 An average of 122 whaling vessels were from New Bedford.
1790
According to Rickettson the population of New Bedford's village was 700, but the greater New Bedford including Fairhaven had about 3,313 inhabitants and had about 454 houses.

Water, Middle and a portion of Main Street in Fairhaven were accepted as highways.
At this time, there were only 2 or 3 of the style called square rigged vessels although there were other styles of ships and boats..
1791
The whale ship "Rebecca" at 175 tons became the first American whaler to go round Cape Horn returning to New Bedford.

She departed on the 28th of September 1791 and returned on the 23rd of February 1793 with a full cargo of oil.
1791
The Road on Clarks Point was accepted.
1791
Small pox broke out again with worse results than 4 years earlier. The newly discovered "inoculation" was met with great protest especially in New Bedford
1792
The road on Sconticut Neck was accepted.
1792 July 31
A petition had been passed and signed to create a new hospital to inoculate people against smallpox.
The vote in favor was 85 to 68. A committee set a series of rules and regulations for the care of patients and for their isolation from others.

A physician, nurses and a superintendent were provided for.

Initially they wanted the hospital to be located on West Island but finally chose four houses in different locations. This was a bad decision.

The disease spread rapidly, and about 100 people died from it.
The disease continued to be a problem until 1793.
1792
City's first newspaper, The Medley, or New Bedford Marine Journal first published on November 27, 1792..It was a weekly paper published and edited by John Spooner at his office near Rotch's wharf..
1792
On June 12, 1792, the first New Bedford Post Office was established, and William Tobey was appointed to be the postmaster.
The post office was located in the old Tobey house, a two- story wooden building on the corner of Purchase and Union streets with the entrance on Union Street.
That was later to become Lawton's Drug Store. (See the image of the house)
This year the New Bedford (Quaker) Monthly Meeting seperated from the Dartmouth Monthly Meeting.
1793 A postal route is established by Samuel Sprague from New Bedford to Barnstable by way of Rochester, Wareham and Sandwich, returning through Plymouth and Middleboro.

Weekly communication provided for by William Henshaw's stage that left New Bedford every Tuesday morning at 9 o'clock and arrived in Taunton that evening., the next day it went on to Boston.

The returning stage left Boston every Friday morning at 9 o'clock to Taunton, and left Taunton on Saturday arriving in New Bedford in time for dinner. The fare was 3 pence per mile.

Abraham Russell ran a stage to Boston via Bridgewater. In 1794, he raised the price to $3.00 per passenger for the trip to Boston.
Charles Church aged 53 years drowned in the Acushnet Harbor
1794
Police: A group of policemen or "Watchmen" known as the Bedford Association was organized to protect against theft from people's gardens and business. Businesses were susceptible to robbery during the night.
1795
The population was about 1,100.

The only passable streets at this time were Main (now Union), Water, North and parts of Second and Bridge Street (now Middle Street).

North street was the first street officially laid out from County Road (street) to the river.
Union Street was originally a cart path with a red gate at the top on County road (County St)
County road started at the Cove and ran to Taunton through Freetown.
Although there was no court in the town at the time, there was a Quaker lawyer.
There was one physician, and there were two school teachers in the town.
The First Congregational Church was built on William and Purchase Street which later was the site of the Merchants National Bank.
1796
The first bridge, was a toll bridge, and it connected New Bedford and Fairhaven and cost about $30,000.00
It was under the direction of William Rotch. The bridge was destroyed under a great tide in 1807.

Another bridge, built in its place, was also washed away by the September gale of 1815.

A third bridge was built in 1819. What is now Middle Street in New Bedford was originally called Bridge Street as it was the street that went to the New Bedford - Fairhaven bridge. The bridge was upwards of four-thousand feet.

By 1800, the tolls were - 4 cents for each foot passenger, 12 cents for each person and a horse, 25 cents for each chaise, sulky, 18 cents for each sleigh drawn by one horse, and 6 cents for each additional horse.

The charge was 36 cents for each coach or phaeton, curricle, wagon or sled or other carriage of burden drawn by two beasts.

You could roll a wheelbarrow or hand cart over the bridge for 6 cents, and the same price was charged for a dozen sheep, swine, cattle or horses in droves with one driver.

1796
Population of New Bedford and Fairhaven was 3,313. At this time, the two were not yet separated. This occurred later in 1812
1797
Local merchants erected the first wooden lighthouse on Clarks Point in 1797. The original structure burned down about a year later.

The lighthouse was rebuilt. The Columbian Courier on October 16, 1799, reported that the new lighthouse had been completed and lighted for the first time on October 12.
In 1800, the lighthouse was turned over to the federal government. Another fire, apparently caused by lightning, destroyed the tower on August 5, 1803.
In March 1804, Congress appropriated $2,500 for the rebuilding of the lighthouse. The new tower was a 38 foot tall octagonal stone tower and was completed in 1804.

In 1818, the lighthouse had a four foot addition and an octagonal iron lantern installed as well as extensive renovations.
1797 April 27,
The Medley or New Bedford Marine (newspaper) announced that a mail stage would run several times a week from New Bedford To Taunton and then to Boston and back..

Fare for a passenger was $3.50 from New Bedford to Boston and $2.50 for a Taunton to Boston trip. Lesser distances were 6 cents per mile. 100 lbs of baggage equaled the fare of an extra person.
1798-1799
The second newspaper, the "Columbian Courier", was published in New Bedford.

It came out on either 1798 or December 12, 1799 and ran until the 1st of March 1805.

The conflicting dates come from two different sources, Rickettson and Ellis both New Bedford Historians of the late 1800's

It was printed and published by Abraham Shearman Jr.
Subscription was 1D .50cts per annum ($1.50) It's motto) "To mark the unfoldings of eventful time".

Friend Shearman was born on his father's farm about a mile north of the Friends meeting house in Acushnet on April 4, 1777. An injury caused him to be lame for most of his life.

He was New Bedford's major bookseller as well as a publisher of the news.

He died on the Corner of Walnut Street and 4th street on December 26, 1847, at 71 years of age.
1799
Referring to the Rotch-Rodman family, Samuel Rodman wrote to a friend "There is not a ship in this harbor but does not belong to our family".