Local New Bedford, Ma. History
1990 to 1999
In Chronological Order
Follow the timeline through the years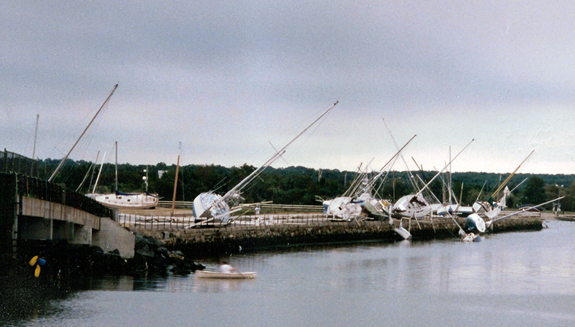 Aftermath of Hurricane Bob 1991 Padanaram Bridge
Click the picture for a larger image
1990
Morris Pina was arrested but died in his cell at the New Bedford Police Station. After a lengthy legal battle where it was determined that his death was the result of police misconduct, his sister agreed to a settlement of $550,000.
This avoided prolonged litigation. It had already been a 62 day trial.
1990
Jose Beatriz owner of Trio Algarvio got indicted for his part in a gigantic marijuana smuggling ring that smuggled 300,000 pounds of majuana (pot, reefer or weed) from Columbia to New Bedford.
1990
Added to the National Historic Register:
Thompson Street School a historic school at 58 Crapo Street in New Bedford, Massachusetts.
The school was built in 1884
Also,
Hotel Waverly, n historic hotel at 1162-1166 Acushnet Avenue in New Bedford.
The hotel was built in 1901 and completely renovated in 2000.
It is now home to low income housing, and it is named Talbot Apartments.
There were11 fatal car crashes in the city for this year

1990 population 99,922. Of this, there were 7% or 6,653 Latinos. A newer ethnic group was being added to New Bedford's mix.
1991
Hurricane Bob (see photographs/video) was a category three hurricane unleashing rain and wind gusts to 138 mph. The hurricane barrier easily survived the episode.
The hurricane knocked down trees and chimneys and caused a good amount of damage to roofs etc.
The storm surge caused some damage to areas htat were not protected by the hurricane barrier, such as Billy Woods Wharf and Davy's Locker.
There is a large populated area as well as commercial properties on Clark's Point in the south end of the city that are unprotected by the barrier, and therefore subject to coastal flooding.

Also,
The Perfect Storm (also a movie and a book) was a Halloween Nor' Easter that was strongest offshore as a combination of storms that came together.
It was terrible for the fishing fleet that was out there. The Gloucester boat the "Andrea Gail" went down with all 6 of the crew.
Linda Greenlaw author of several books was the captain of the Hannah Boden that made it back safely.
There were 2 fatal car crashes in the city for this year.
1992
The problem for scallopers and other fishermen can be defined areas that are legal to fish in and the ones that are not. In one incident, the Coast Guard seized $35,000 worth of scallops from a Massachusetts fishing vessel that was allegedly fishing in Canadian waters.

The 117 foot Fearless, a scalloper from New Bedford was detected by the Alert, a Coast Guard cutter. Supposedly it was about a mile and a half on the Canadian side of the international boundary between Canada and the US called the Hague line.

It was one of several boats seized for violating the Hague line in that fishing season.
1992
Rosemary Tierney known by some as "Tenement Tess" won the seat for the mayor's office in 1992.
She was the first woman to be actually elected mayor of New Bedford.
There were11 fatal car crashes in the city for this year.
1992
In September. Father James Porter was indicted in Massachusetts for molesting 28 children.
He later admitted to molesting over 100 children of both sexes throughout the years since 1960.
Some men came forward with allegations of sexual abuse. Though these men were adults at the time of indictment, the statute of limitations was not run out.
On this same day, he was indicted in Minnesota for molesting a babysitter of his children. In the end he after his plea bargain he got a sentence of 18 - 20 years.
He died in prison in February of 2005 at 70 years of age.
1993
A very controversial episode where New Bedford Police strip searched a young girl brought to light the policy of police strip searching people. A narcotics detective in court testified that more than 100 roadside strip searches were conducted by New Bedford police 1993.
The police testimony was made during a federal lawsuit filed by two women who were subjected to a search in 1993 on Route 18 near Coggeshall Street.



There were 7 fatal car crashes in the city for this year.

At the Standard Times, Orren B. Robbins retired in this year and was replaced by William T. Kennedy, the 10th publisher.
1994
From '94 until 1995 the Army Corps of engineers dredged 14,000 cubic yards of PCB contaminated sediment over 5 aces of the upper New Bedford harbor.
There were 6 fatal car crashes in the city for this year.
1995
Mother Theresa visited New Bedford on June 14th.
The event was extremely exciting for the religious people who lived in the city. She was very short.
There were 5 fatal car crashes in the city for this year.
In May of this year, the Standard Times became the first Massachusetts newspaper to launch a website.
1996
The wastewater treatment plant with secondary treatment of waste is completed at the south end of Clark's Point.
There were 6 fatal car crashes in the city for this year.
1996


On the National historic Register:
New Bedford Whaling National Historical Park was established this year and is maintained by the National Park Service.
The park commemorates the heritage of the world's preeminent port during the nineteenth century.
The park encompasses 34 acres (fourteen hectares) dispersed over thirteen city blocks. It includes a visitor center, the New Bedford National Historic Landmark District, the New Bedford Whaling Museum, the Seamen's Bethel, the Schooner Ernestina, and the Rotch-Jones-Duff House and Garden Museum.



The Whaling museum is in the park on Johnny Cake Hill and is a "must see " for visitors to the city.
Also,
Moreland Terrace Historic District is a historic district roughly bounded by Moreland Terrace, Ash, Bedford, and Page Streets in New Bedford.
Also,
Howland Mill Village Historic District is a historic district roughly bounded by Bolton, Winsper, Hemlock Streets, and Rockdale Avenue in New Bedford. It was designed as part of a Howland Mill plan.
1997
The city's fishing fleet had a good year.
In excess of 8.6 million pounds of ground fish species of haddock, cod and flounder was landed.
In total over $10 million.
1997
The U Mass Dartmouth, School for Marine Science and Technology was built on 2.6 acres in the south end of Clark's Point in New Bedford
There were 5 fatal car crashes in the city for this year.

1998
Aerovox, a maker of electrical components planned to move its headquarters to municipal land, which was given to the company for free by the city of New Bedford. The E P A discovered PCBs on surfaces within the plant on Belleville Avenue. It had been there since since 1938.

1998
The historic schooner Ernestina moved its offices from a trailer on State Pier into the F.A. Sowle Building at the corner of Water and Elm Streets.
There were11 fatal car crashes in the city for this year.

1998
The New Bedford airport commission got an influx of money in the form of a grant from the Massachusetts Aeronautics Commission.
As a result, the interior of the Terminal Building got renovated.
By this time, the airport was becoming a regular hub for air traffic to Cape Cod and the islands.

There are other aircraft facilities at the airport that offer repairs, maintenance, aircraft rentals and flying lessons.
1999
The New Bedford Whaling Museum marked 200 hundred years of service on September 15,

1999
Quinn Sullivan was born on March 26 of this year.

He began playing guitar at a very early age and appeared on stage many times with Buddy Guy.
He also played with B B King and many other notable guitarists of the time.

In his early youth he appeared on the Ellen Degeneres show. That was followed by appearances on Oprah Winfrey's show, NBC's The Today Show, Lollapaloosa, Jimmy Kimmel Live, etc.
Above we see Buddy Guy, Guinn Sullivan and Eric Clapton.


For his age he has done an amazing amount of top professional work. In his early years, he was covering Beatles songs quite well for being 5 years old. Later he turned to the blues and really did well with it.

He has appeared in the Beacon Theater in New York, Buddy Guy's Legends in Chicago, and the Orpheum Theater in Boston.

In early 2013 he played at Madison Square Garden with Buddy Guy for the Crossroads Guitar Festival. The list of great venues is a longer one than we will give you here.

He studied guitar with Jimmy Borges a great New Bedford guitarist, entertainer and teacher, as well as Stan Belmarce, Brian Cass and the Toe Jam Puppet Band.
1999
The EPA amended a decision as to the disposal of materials dredged as part of the cleanup of the harbor.
The new plan was for a land fill site for the 14,000 cubic yards of contaminated sediments that had mostly been dredged in 1994 and 1995. It had to be removed from its containment, and placed in the permitted hazardous waste landfill. That was located out of the area.
The new plan replaced the EPA's 1990 decision which called for incinerating the contaminated sediments in New Bedford.

1999
Hurricane Floyd hit the city and did little damage. See a news report of the Hurricane from the Barrier.
There were 7 fatal car crashes in the city for this year.
1999 February.
The 54th Regiment Massachusetts Volunteer Infantry Plaza was dedicated.
It is there to honor black Civil War troops in the 54th and 55th Regiments and the U.S. Navy.


Slide show - Father James Porter - Convicted Pedophile and Rapist