Local New Bedford, Ma. History
1920 - 1929
In Chronological Order
Follow the timeline through the years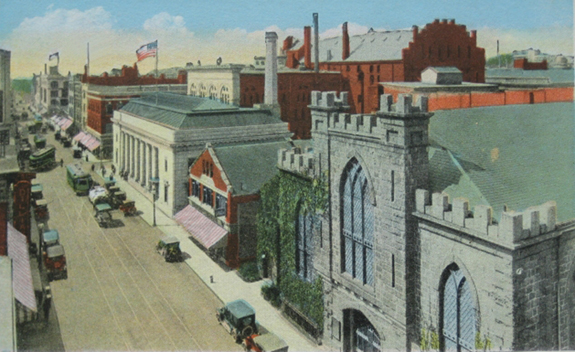 Purchase Street - New Bedford - 1920
1920
At the peak of the business boom there were 28 cotton producing business with a total of 70 cotton mills. 41,380 people were employed in textiles in New Bedford, and the population was much higher than today.

In that year, there were 121,217 residents in New Bedford.
1920
New Bedford mills produced a lot of cotton goods.

New Bedford in 1920 was the third largest consumer of cotton in the United States.
1920
November 29 Capital Theater opened with 1,000 seats at 1418 Acushnet Avenue.

It was built as part of a block long structure on the site of the former Timothy Coffin Estate.

In "the old days", it featured two continuous movies and five Looney Tunes cartoons as well as evening shows.

Admission was 12 cents on Saturday, and 25 cents on Sunday candy bars were a nickel and popcorn was 10 cents. Kids loved it..

Films were shown into the 60's and by the seventies several rock concerts were performed there. It closed for good in the early 1980's
1921
Morris Glaser started Glaser Glass in New Bedford in 1921. He had previously worked in the trade with his brother. The company still operates in New Bedford.
1921
Although the date is disputed the first on-air broadcast for WNBH was in November of 1921.

The name WNBH came from its location later in 1925 where it's studios were located in the New Bedford Hotel
1922
The Empire Theater was built on 118 Elm Street, at the site of a horse stable that burned down in 1914.

It was a large theater with a capacity of 1,845. In its early years it presented live entertainment such as dancing, comedy, music, etc.

In 1932, the Zeitz family bought it, and it became a movie theater. It had a good run with top box office movies all through the years.

My Fair lady was the last movie shown in 1964.

In 1965 after a hiatus, a live performance called "Those wonderful Days of Burlesque" was the last show in the theater.

In 1956, a group of 5 teens were arrested while waiting for Elvis' "Jailhouse Rock" to play.
They were making a lot of noise, shouting and hollering.
They got six months probation, and were told by the judge to "Go Straight."

November 6, 1922 Normand Chartier is born - his parents are Ovide Chartier and Stella Roussseau.
1922
In this year, New Bedford was one of three cities in the US without a reported death from typhoid fever.
It was attributed to the good water supply and the use of typhoid vaccine.
1922 June 24,
New Bedford got its first commercial radio station. WDAU, owners Slocum & Kilburn
1922
"Down To The Sea In Ships" a silent film, was made in New Bedford. Marguerite Courtot and Raymond McKee, as actors along with the famed Clara Bow making her film debut.

Parts of the film were made during a real whaling expedition, and there was an actual location shooting in the film. It is not similar to "Down To The Sea In Ships" that had the same title, and was made in 1949.
1923
Radio Station WMAF at Round Hill and owned by Colonel Green signed on at 363 m/ 830 kHz.
In June, WMAF became is part of a chain that rebroadcasted the programming of WEAF for four hours a day.

It is reported that the broadcasts from WMAF caused some radio interference for other stations.

1923
The State Theater originally called the Zeiterion for the first few months of it's existence, opened on April 2 of that year with 1,208 seats.

It had a small Wurlitzer 2 manual theatre pipe organ.

The first performance was on April 2, 1923 with a stage show starring George Jessel,
titled "Troubles of 1923."

"Moby Dick", with Gregory Peck, had its world premiere in 1956.

It has been renamed Zeiterion Theatre, after the Zeitz family that previously owned it, and at one time owned several theaters in New Bedford.

It now presents live entertainment of many kinds -- theatre, opera, ballet, comedy, and music. It is also the home of the New Bedford Festival Theater with Armand Marchand as Executive Director and George Charbonneau as Artistic Director.

Here's the web site for the New Bedford Festival Theater

The web site for the Zeiterion Theater is http://www.zeiterion.org/

June 30, 1924
The ferryboat Sankaty caught fire and drifted across the harbor.
It came to a stop alongside the whale ship Charles W. Morgan, which barely escaped being destroyed. The Sankaty was a total loss.
1924
December 24, Carol Haney ,the famous dancer, was born here and died in 1964.

She had roles in "The Pajama Game", "Invitation to The Dance", and "Kiss me Kate".
1924 August
A category 2/3 - large hurricane center moved over and just east of Cape Cod. It was severe in New Bedford and Martha's Vineyard Massachusetts. The New Bedford Newspaper (Mercury) published a photo journal of the severity. Very heavy tree damage in New Bedford north to Plymouth Massachusetts.
1924
New Bedford's economy was booming with the cotton mills etc. and the population was at the peak of 130,000. By 1955, it had dropped to 105,000.
On August 25, 1934 the Wanderer embarked on it's last whaling expedition from New Bedford.

She anchored the next day next to Cutty hunk Island just a few miles from New Bedford to wait for some members of her crew.
The next morning the sea got angry, and the ship was anchored but the winds caused her to be dragged toward Sow and Pigs reef.
The anchor chains snapped and the men took to two whaleboats.
Although Cuttyhunk lifesavers set out to rescue them they couldn't find the whaleboats. One boat made it to the Vinyard Sound lightship and the other made it alone to Cuttyhunk.
1925
A total eclipse of the sun happened on January 24th

The final whaling voyage returned to New Bedford was made by the schooner "John R. Manta".

Marcelle Audette was born on April 22, 1925 and married Normand Chartier on June 5th 1948

Robert F. Kennedy was born in 1925 and later assassinated in 1968
1925
In this year, Abraham Landau was born in Poland, but after World War 2, he emigrated to New Bedford where he spent many years as a tailor.

During World War 2, he had suffered considerably in concentration camps having lost 95 members of his family.
Abe Landau - Holocaust Memorial at Buttonwood Park
1925
In New Bedford busses begin to be used in public transportation rather than the old trolley cars.
The New Bedford textile industry peaked with 35 mills in operation.
1926
There were no murders in New Bedford, in the year 1926.
1926
August 6, Normand Wexler was born in New Bedford. He went on to become a screenwriter of fame for such works as Serpico, etc.
1927
Lizzie Borden died of pneumonia on June 12 of this year. On August 4 1892, her parents were murdered in Fall River, and she was initially blamed and tried in New Bedford.

She was acquitted. She is widely considered having committed the murders.
1927
There was a reorganization in the public schools system and the new concept was to create two middle schools or Jr. high schools.

Two schools were built, and opened in February, 1927, one on Tarkiln Hill Rd and the other off of Brock Avenue they were initially known as North End and South End Jr. High Schools.

Afterward the school in the north end was named Normandin Jr. High School and the one in the south end was named Roosevelt Jr. High School.

Both schools were built of brick, and each had three stories, some 40 rooms, one hall and two gymnasiums. Each school had a maximum capacity of 1200 students.
1928
In excess of 20,000 factory workers went on a strike for six months because of the 10% wage cuts by the mill owners.

After 6 months of striking New Bedford's Textile Council settled with a 5% pay cut and the remaining workers went back to work.

It was the largest labor strike in New England during the 20's.
There was a terrible cost in lost wages through the cold winter. The strike brought a lot of violence and many arrests.

This was to be the downfall of the New Bedford Textile Industry, and a lot of factories moved their production down south to take advantage of cheaper wages and a closer proximity to the cotton.
1928
Amaral's Linguica Company (Lisbon Sausage Company Inc.) was started and still produces products till this day. It is still at 433 South 2nd street. Amarals.com
1928

WNBH radio had live performances by local talent. This video is created with original soundtrack and photos from Michael Eadie's copy of the "Chansons de Terroir" sing-along book from the Happy Home Furniture Company's Sunday Radio Hour on WNBH.
See the video with Conrad Gauthier and his troupe singing -" Maluron Malurette". At one time, the French - Canadian culture was more dominant in New Bedford than in the later part of the 20th century.
1929
The stock market crash was a disaster for New Bedford and much of the world.

In 1929, The Monsanto Corporation invented Polychlorinated Biphenyls (PCB's) and they were used extensively in manufacturing along the Acushnet river.

A monumental environmental disaster affected both the river and several landfill sites in New Bedford at a terrible cost in sickness attributed to the chemicals.

There was also a huge problem and cost of removing the poisons in the ground and river where their waste had been dumped.

The waste is recently found to be still a problem under the new High School and Keith Middle School on Hathaway Blvd., the site of a former dump.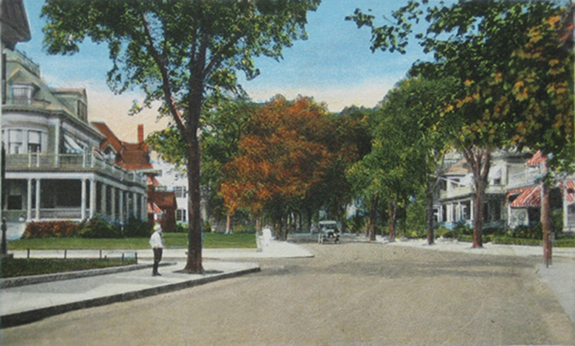 1920 - County Street - New Bedford