1908 Coggeshall Bridge
New Bedford - Fairhaven, Ma.
This bridge crosses a shallower section of the river in the norther reaches It does not open to allow boat traffic leaving the upper river useless for commercial, maritime traffic and wharves etc.


Click on the picture for a larger version.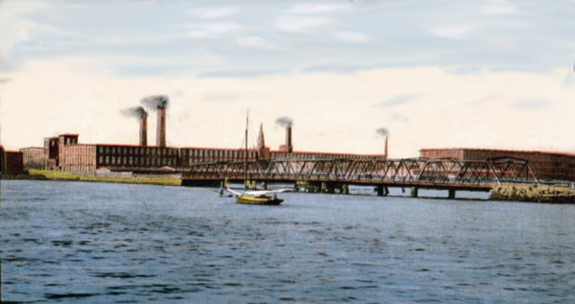 Looking from Fairhaven we see over into New Bedford and the Coggeshall Bridge.

It is an extension of Coggeshall Street.

In the background, we see the former (so named) Fairhaven Mills although they are in New Bedford.

Unfortunately, the bridge is solid, and no boat traffic can pass under it due to it's low stature.

Land owners abutting the river north of the bridge had a polluted body of water that could not be used for
fishing or swimming and due to the bridge the upper river was also useless for sea commerce.