Local New Bedford, Ma. History

1840 - 1849 In Chronological Order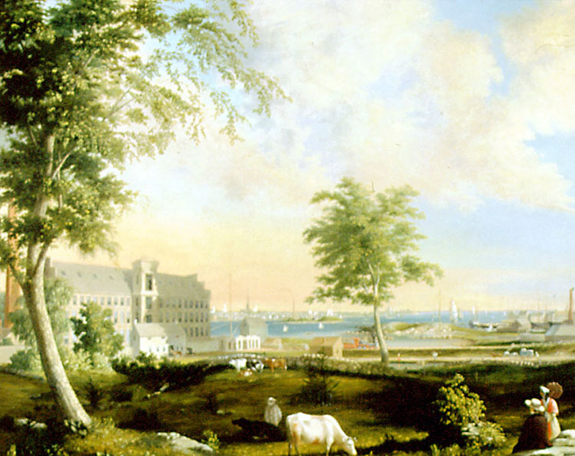 Wamsutta Mills - William Wall
1839 - 1840
Smallpox made a repeat appearance, and strict rules were enforced.

One read "Every person, without any exception, who shall leave your premises, shall be thoroughly smoked by you before so doing."

General vaccination was enforced. ,
1840
The New Bedford - Taunton railroad was completed, and the first train service was begun from New Bedford to Taunton Junction and on to Boston.
This first train station was the Pearl Street Depot, built by Russell Warren.
It was built in the a non-traditional Egyptian Revival style. People called the station "The Tombs".
It had small ticket and waiting areas. They were connected to a long train shed that ran behind the Pearl Street building front. It was built on the north side of Pearl Street and just east of the Common Park.

A reformer complained that dog and rooster fights, as well as disorderly dances, were obstructing the sidewalk in the neighborhood (Ward 4) near the railroad depot.
This area became known as "Holy Acre" by the 1900's

1840
The issue of licenses for theatrical venues came up at a special town meeting on September 14,1840 and the selectmen were approved to grant licenses by a vote.

A license was granted to I. P. Adams for a concert and exhibition of comic songs and narrations at Mechanic's Hall on September 1.

The market and town hall building was finished and occupied early in 1840
1841
The town house on Second Street was fitted up as an armory for city guards, and for police court rooms.
1841
The famous whaler Charles W. Morgan is launched in New Bedford.

The ship can now be seen in Mystic, Connecticut at the Mystic Seaport.

It is the last New Bedford whaling ship in the world. Scroll down the page for a picture of it.

Herman Melville, author of Moby Dick shipped out on a whaling voyage to the Pacific aboard the "Acushnet".

1841
Dog Corner was the area of the intersection of County street, Allen street and Wing street.
At this time, there was concern by, the more conservative elements, of the city about Dog Corner.

The newspaper, the "Enquirer" wrote:
" It is well known that there is one place at least in a settled part of this village, at the crossing of two public streets, where there is daily and nightly constant exhibitions of drunkenness, brawling and profanity; and at dusk such is the concourse assembled there that it is not only disgusting and indecent, but such is the character of the assemblage, that it is dangerous for civil persons to pass in the vicinity.
It is now years since the neighborhood alluded to, has been a moral stain and a public curse upon our community—and yet every summer the same scenes are repeated. . . There does seem to be an incongruity in allowing in a civilized community a whole district to be debased by atrocious scenes of paganism, and no effort made to prevent the calamity. In the district I allude to, the houses are occupied by many tenants—some men, some women, some married and some unmarried, some in cellars and some in garrets, each having an apartment that at dark is thronged with visitors—and at that hour the fiddle strikes up and the place swarms. And here also may be seen children by dozens who are becoming initiated into the vilest habits, which cannot fail to lead them to the public prisons".
1842
New Bedford's Orphans Home opened to provide for children of whalers who were lost at sea and others.

The Orphan's home has over the years has become the New Bedford Child and Family Services.

The First Orphan's Home was located at the corner of Rodney French and Cove Street.
As of 2010 there had been a library on that site for some years.
In that time, Rodney French Blvd was called Point Road then later French Avenue then later Rodney French Blvd.


New Bedford had 378 firemen (firefighters) who were paid $10.00 a year
1843
September 27, 1843 ex-president John Quincy Adams visited New Bedford as a guest of Joseph Grinnell.

The next day he gave a 20 minute speech at a public reception in the town hall. Afterwards, hundreds of citizens shook hands with him.

1843
The Oak Grove cemetery is established, divided by Parker street and bounded by liberty street on the west side.

Some famous people are buried here such as Edward Mott Robinson who was the father of Hetty Green who became the richest woman in the world.

He was an owner of whaling and merchant ships. When he died June 14, 1865, he left his daughter Hetty Green, a million dollars and the income from eight million dollars.
1843
Daniel Webster came to New Bedford as council in a will case.
1844


The Bourne Counting House was constructed on Merrill's Wharf.
There were 239 vessels in New Bedford's fleet.
1844 - 1845
The Middle Street school was built. It was made of brick.
1845
The first "negro" minstrel concert ever given in New Bedford was in Mechanic's Hall February 18 and 19, 1845 by the "Sable Sisters and Ethiopian Minstrels."
1845
New Bedford was rated the 4th highest U.S. port in shipping tonnage.

Road Changes
Smith Mills Road became Kempton St., and Noel Taber Road became Rockdale Avenue running north of Kempton St. up to Hathaway Road. Just before the intersection with Hathaway Rd on Rockdale Ave. is where the Village of Rockdale was located. Cannonville was located at the intersection of Kempton Street and Rockdale Avenue, to the east on Kempton St.
1846
February - A charter was granted to the New Bedford Steam Mill Company in a building at the foot of Hillman Street.

In November of 1846, it began production and, by In 1849, the mill ran 7,500 spindles. It closed after 5 years due to lack of capital.
1846
In April Wamsutta Mills was incorporated but didn't actually begin production until January 1, 1849.
It eventually became the #1 producer of fine cotton fabrics.
The interior was built by Pierce and Wright and Dudley Davenport for $19,560.00 the masonry built by Haile Luther for $16,395.00.
1847
On January 10, The new Alms house on Clark's Point was opened.


The making of Daguerreotypes was commenced by C.E. Hawes & Brothers at their rooms in Liberty Hall.
1847
The New Bedford Horticultural Society is formed by James Arnold and some other men.

Funds from his will financed the forming of the Arnold Arboretum in Boston.

See his picture in the column somewhere on the right ------->
1847
March 18 the citizens voted upon the "Act to Establish the City of New Bedford."
It carried by a vote of 1,150 for and 814 against.

April 29, New Bedford's city charter, was granted by the legislature.
Abraham Hathaway Howland was elected to be the first Mayor.

The city had 16,000 residents and it spread over 24.13 square miles or 62.5 square kilometers.
Of that 4.1 square miles or 10.7 km2, or 17.13%, is water and 20.0 square miles or 51.8 km2 is land.
The highest elevation of New Bedford is near the current Rt 195 and Hathaway road, and it is 188 feet in elevation.

Albert Pinkham Ryder was born this year and died in 1917. He was a famous Idyllic Painter.
1847
The "Night Watch" men formally became police constables.
Henry Hathaway, was the leader, and they patrolled New Bedford at night until 1876, when the police department came into being and Henry Hathaway was made the first Chief of Police.
There were 83 part time "special" patrolmen and 26 regular patrolmen..
1847
On March 24, Hough's Temperance Company played "Othello" in Liberty Hall, which was the former Unitarian church building. It had become Liberty Hall in 1834 on the corner of Purchase and Williams Street after the new stone church had been built.

1847
The telegraph was first brought into New Bedford.
The city was quick in gaining the technology as it had been first demonstrated in Washington DC by Samuel Morse only a year earlier.
1848
The toggle harpoon is invented by Lewis Temple. It is considered to be the most influential technological innovation of the nineteenth century whaling.
The statue of Lewis Temple is standing in downtown New Bedford in front of the New Bedford Free Public Library.

He was born in 1800 as a slave in Richmond, Virginia.
He obtained his freedom and moved to New Bedford, Massachusetts in 1829.
There, he worked as a blacksmith. In the same year, he married Mary Clark. They had three children.

Although he had no experience with whaling, or as a seaman, he opened a whaling outfitting store and then in 1845 due to it's success, he opened a larger one.
This invention revolutionized the way a harpoon functioned.
After it was stuck into a whale, the head could swivel sideways, and lock itself into the whale in the blubber etc., beneath the outer skin. This meant far fewer harpoons were lost and far less whales could get away, increasing productivity.
See his picture in the column on the right. ------------->
1848 May 18
The Dudley Davenport fire occurred in the city causing over $30,000.00 in damage. It started 10 PM and was one of the fiercest this city had ever experienced.

Davenport's steam planing mill, grocery store and lumber yard as well as a house that belonged to William Rotch were destroyed.
Several fire engines were used during the five hour battle..

It was the second time that Dudley Davenport lost all. On July 25, 1830 Davenport's building was reduced to embers in "a fire that burned with the rapidity of magic. "That conflagration brought citizens and firemen together for the five hours it took to quell the blaze.
The fire started 3/4 of a mile away, and supposedly embers floated on the breeze to Davenport's property and started it and then a boat builder's shop owned by Jethro Coffin's ablaze.
In 1821, he built the James Arnold house now known as the Wamsutta Club.
In July of 1831, he is listed as one of the directors of the Mechanic's National Bank.

In the 1836 register, he is listed as having a shop as a house wright at 74 South Water St. and a Grocery store at 76 South Water Street.
His residence is listed as 2 Bush St. at the corner of South Water.
Bush street is called Madison Street today.
The area of his stores and home was demolished for the Route 18 highway expansion in the 2nd half of the 20th century.
In 1836, he was listed as a member of the fire department's hook and ladder company.

On March 3rd, 1846 he had insured the building with the New England Fire Insurance Company for a 3 year term at $2,500.00.

After the fire, the insurance company took the issue of payment to court because on the originally written application for the policy Davenport had lied about having any financial encumbrances such as mortgages or liens on the property. Actually he had 2 mortgages that were due at the time of the fire.

In documents during his lifetime, he is mentioned as being a wealthy man. He had built churches, the interior of a factory and moved the large brick 4 chimneyed Russell house at the head of Union Street 400 feet with furniture intact and no damage as well as many other large construction projects. He is listed as part owner of at least one ship and maybe more.

In 1876 at the centennial celebration, he is referred as Dudley Davenport, Esq. leading us to believe that he might have passed the bar to practice law, although he is not listed elsewhere as an esquire or lawyer.

In 1898 he lived at 254 Arnold St.

In 1902 his business of provisions was sold to J.B. Tasker.

In 1904, his son Dudley Jr. was living at 254 Arnold st. and was listed as a clerk / groceries at 148 Arnold St. a grocery store run by C. Davenport.

In 1905, Jr. was working as a clerk at 143 Purchase St. and living at his father's house.

In 1908, Jr. is listed as a farmer and still living at 254 Arnold St.
Dudley Sr. is last listed in city directories in 1908 at the address. By 1909, neither father nor son were listed in city directories. If the directories were accurate Dudley Davenport, the father lived for a long time.
1848
Abraham Lincoln visited the city and spoke at Liberty Hall. This was during the Whig campaign, and Lincoln was the 39 year old Senator from Illinois.
1849
The Wamsutta Mill incorporated in 1846, opened and was the first successful textile mill in New Bedford.


In December 1848, the first public evening schools for adults were opened.
One for males and one for females.
1849
Many whalers quit their jobs because of the gold rush in California.

During this period of time Herman Melville who worked in New Bedford as a whaler, wrote the novel Moby Dick.

The Palmer's Island lighthouse was built. Read more about it...
1849
At this time, the Friends or Quakers had 449 members in New Bedford
1849
In the summer of this year, the Asiatic Cholera hit New Bedford. Several citizens died from the disease.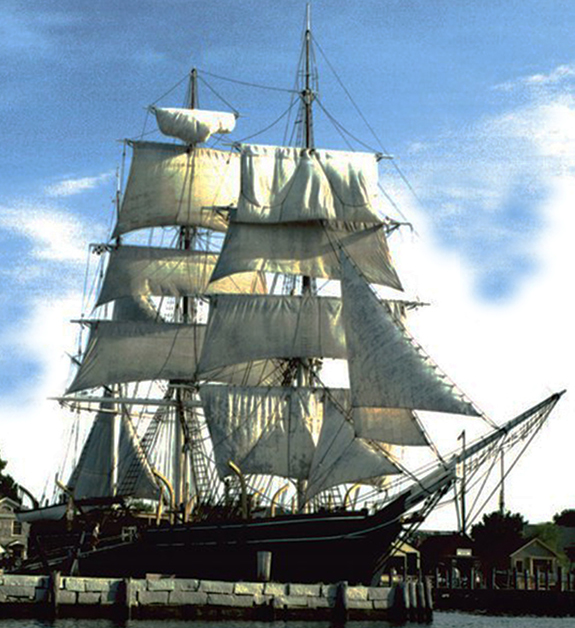 Charles W. Morgan - Last of the whaling ships out of New Bedford - in Mystic CT.